What's in store for urban planning in 2012?
There is a new wave of sculpture sweeping the USA this year, city sculpting. Urban architecture is taking on bold new directions; bringing more green space into city-scapes and more eco-friendly options for transportation, flipping the switch on many exciting initiatives that give hope for city infrastructures as populations continue to rise.
Within these projects is the inherent relationship between art, architecture and urban planning, are three of which are seemingly interlaced as urban planning takes on new directions.
Chicago, LA, NYC, and Seattle are just a few of the biggies launching remarkable revamps for 2012.
The Millennium Reserve Initiative of the Calumet Core region of Chicago is hot on the radar. The first phase is set to begin in 2012.
The goal: "transforming a huge swath of underused, postindustrial land into a playground of wildlife corridors," says salon.com.
The huge swath of land discussed is 140,000 acres of open space.
The space will be one of the largest urban parks, with wildlife corridors, gardens, hiking paths, organic farms, managing and restoring natural biological communities of rare plants and animal species.
The project is hoping to increase tourism, alongside the ever-popular Millennium Park, and economic growth and stability.
On the other side of the country, LA is planning a waterfront redevelopment plan for Los Angeles' River of Dreams. The plan was approved in December to revive this urban waterway.
30 years ago the river, which runs through LA, was lined with concrete to prevent flooding, and presumably leaching ground pollution. This year the city of LA plans to lobby the Obama administration to fund a revitalization study.
The desire is to increase available public access and improve the resources around the river access.
Will Doig of Salon.com wrote "Council member Dennis Zine, whose district the river runs through, is talking about integrating parkways and bike paths into the river's new life as well, creating a comprehensive waterfront alternative to sand and saltwater. 'Eventually what we would like is to make it a living river with bike paths, walkways and restaurants,' he told the Los Angeles Daily News. 'We want businesses facing in to appreciate the river.'"
While courageous plans for urban architecture are sprouting in Chicago and LA, just a little further north of LA, Portland is hosting an inaugural speaker's series on architecture.
The Portland State University Department of Architecture launched its first lecture series spanning the 2011-2012 academic year. The six notable presentations hosted by distinguished, international academics, artists and professionals are free to the public. The purpose is to explore the concept of origins and beginnings.
Gilles Saucier, Principal, Saucier + Perrotte Architects, Montreal, Quebec, Canada, gives a lecture Thursday, February 23rd. Saucier + Perrotte Architects has a passion for the integral link between architecture and geology to landscape, emphasizing the physical and symbolic importance of site. It seems there is a thematic relationship between this topic and both projects happening in Chicago and LA.
Seattle is also planning to jump on the urban revamp bandwagon. The Alaskan Way Viaduct is being replaced along Seattle's waterfront. This elevated freeway has been topic of debate for years and will now be replaced with a new tunnel and roadways.
The Washington State Department of Transportation notes "As part of the Alaskan Way Viaduct program, King County, City of Seattle and the Port of Seattle are planning street, transit, seawall and waterfront improvements."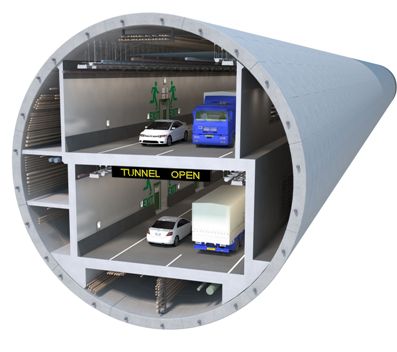 Improvements will include a variety of infrastructure changes as well as a cultural approach to redesigning the waterfront.
The future design of these major cities plays a huge part in the quality of life of its citizens. To see such a demand for major architectural revitalization in some of the large cities in North America is a sign of the direction of design for many more cities to follow.
Want to be a part of building world-class artwork like this? careers@heavyworld.com
For more information on public art and architecture visit www.heavyworld.com.
Stay on top of the latest and greatest in the public art world!
Follow us at twitter.com/heavyworld